Home

\

Boat Storage Banners
FREE SHIPPING
WITH $100 ORDER
Banners for Boat Storage & Sales Businesses
Banners Custom-Designed for Boat Storage & Sales Facilities—Get More Customers in Your Doors!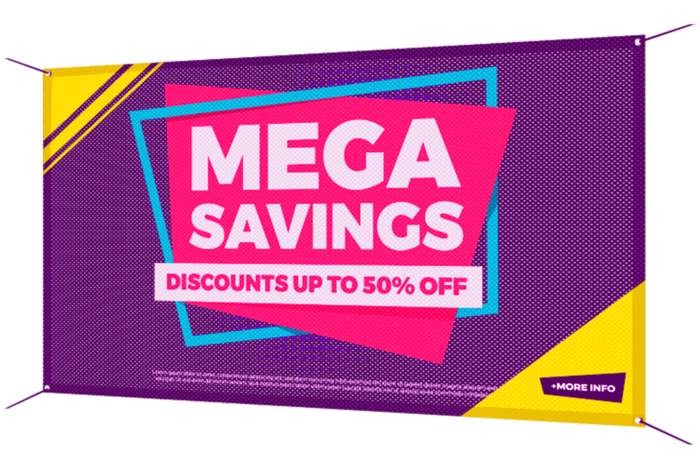 Where to Install Boat Storage Facility Banners
Our marine facility and boat storage customers tell us these locations are helping them gain business value from their banner investment:
Facility entrances, for maximum exposure to new & returning customers
Facility sides that face roadways, waterways & highly trafficked areas
On trailers, docks, lifts & marine equipment being transported or waiting to be rented
On-site, to provide directions & instructions to visiting customers
What are our boat storage and marine sales customers using their vinyl banners from SignMonster for? Here's what they say is making an impact:
Year-round advertising

Banners for marine sales and storage perform well year-round: connect with customers to advertise boat trailers, docks and lifts, boat storage, parts and accessories, and much more. Seasonal banners can make a more timely connection, for sales, holiday events, special offers and programs. Oversize banners are the best solution to get eyes on your business and let customers know what your business has to offer.

Promotions & publicity

Radio and television commercials are expensive and print media doesn't have the reach it used to. That makes custom-printed outdoor banners one of the most affordable and effective options available to boat storage and sales businesses. Banners have high visibility and are ideal for well trafficked areas next to roads, waterways, and parking areas. That exposure brings more attention to your business, which means you have more opportunities to sell.

Easy information sharing

Take the burden off your staff with oversize banners that share your contact information, hours of operations, services offered, instructions, and more. Large printed banners can do the work for you and keep customers connected with your business.

Add some visual pop

Make your business stand out with a large banner that is memorable. Whether it's a high quality image, attractive graphic design, or just a colorful backdrop with your branding, you can make an impression that lasts with distinctive imagery that connects with potential customers.
Why Boat Storage & Marine Dealerships Prefer SignMonster
Boat storage and marine sales businesses benefit from high visibility and customer awareness. SignMonster is the banner maker of choice for boat storage and sales businesses throughout the United States, and it's easy to see why:
Outdoor banners that can stand up to wind, weather & sun, resist fading in all conditions
Sharp & attractive banner image quality
All sizes available, up to 150ft.
Affordable costs & superior value for your banner investment
Fast turnaround, with live order tracking & courteous customer support
Delivered ready to install
Features & options perfectly designed for boat storage/marine businesses
We Have Custom Boat Storage & Sales Banners for You
Check out our ordering page to see how to get started: it's simple, fast, and designed to deliver value to your business as soon as possible. At SignMonster, we're experienced working with boat storage, marine sales, and marine services companies: we understand what your business needs to make a market impact.
If you have questions or special order requests, contact our support team for assistance. Let us put our experience in supporting sales for marine businesses to work for you!
Featured Review from SignMonster Customer:
"I've found a lot of uses for outdoor banners at my boat storage business, at the entrance of course, but also on the approaches to our boat lifts and jetties, to mark different sections, and show our phone number and when to call. Our first order was for banners to promote a special sales event and we just kept getting more from there. The banners don't cost much but they're very sturdy, well designed, and last well even though we get lots of sun and weather. The finished products always exceed my expectations. I always remember vendors that do a great job for my business and SignMonster is at the top of the list."