Home

\

Double Sided Banners
FREE SHIPPING
WITH $100 ORDER
Double Sided Banners
How can one banner do the work of two? When it's a double sided banner that offers superior versatility, visibility, and value. SignMonster is here to help you design and order a Double Sided Banner that returns its investment in half the time!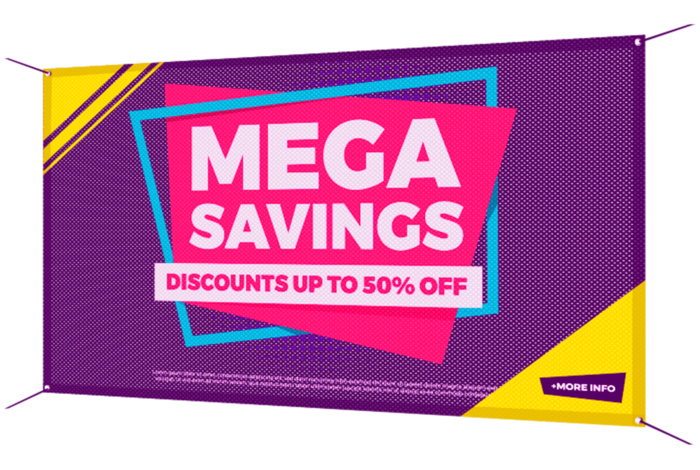 Enterprises, businesses, education institutions, sports teams, and organizations prefer SignMonster because our banners offer:
Superior durability in all conditions, including weather & sun
Best image quality printed on both sides
18oz blockout lay-flat double sided vinyl material
Resistance to fading
Long service lifetime & improved value
At SignMonster, we understand your printed banners are a business investment that needs to return value. Our durable, high quality double-sided vinyl banners are the perfect choice to look good coming and going, and deliver value day after day, week after week, year after year.
Order a Double-Sided Vinyl Banner
Use SignMonster's convenient design and ordering tools to get started. All two banners include the following features:
18-ounce blockout matte vinyl, printed on both sides with virtually no see-through or image ghosting
Each side can be printed with same or different image
Heat-welded hemming, to resist fraying & tearing
Heavy-duty, all-weather material, fire retardant per NFPA 701 guidelines
6 Color HP Latex Print Technology tools
All printing is performed in High Pass High Quality Mode (6 pass/1200 DPI, CMYK LC LM mode)
#2 size grommets in anodized black or nickel-plated metal, installed every two feet top and bottom, four corners only, or top corners only
Wind vents optional
To make you banner a business investment that delivers optimal value, here's what you need to know:
Advantages of Double-Sided Banners
Organizations choose double-sided banner designs over standard single-sided for a variety of reasons. What are the potential benefits? Here are some value advantages that we've heard from our customers.
Twice as visible

Connect with your audience whether they're coming or going, from two directions at once. This is ideal for areas with high foot traffic from multiple directions, busy streets, and indoor spaces with a high density of visitors. It's more cost-effective and convenient than buying two separate banners.

Versatility

Your initial need might only require a standard single-sided banner, but what happens if your plans change? Your banner might need to move from indoors to outdoors, or to a space with two-way traffic. A double-sided banner gives you the versatility needed to go almost anywhere and perform like a champ.

Durability

Thicker and sturdier 18oz double sided vinyl with a blockout layer, along with features like heat-welding and additional perimeter hemming, make double-sided banners ideal for long-term indoor and outdoor use. Weather, sun, and even wind (with wind vents installed) are no match for our banners.

Customization

You can have almost anything printed on your banner on both sides, including high quality images and text, that can also be different on each side. Share your message with your audience, easily and effectively without any further effort.
Double-Sided Vinyl Banner FAQs
Why do organizations choose double-sided banners for advertising?

One word: value. When calculating an ad spend based on cost-per-view (CPV) metrics, banners cost less and gain more views than any other standard form of advertising. Double-sided banners add benefits of versatility, durability, and visibility, which only increase their ROI. The comparative minimal investment for banner advertising makes sense for almost any business, regardless of size. And with a banner printed on both sides, you have an opportunity to create TWO distinct focal points and messages!

How can I verify printed banner image quality?

We generate a preview image prior to ordering, whether you use our online design tools or submit a custom image, so you can see exactly how your banner will look. Please check your preview image carefully to ensure image quality is suitable and there are no errors. Our team will perform a manual inspection prior to printing and contact you ONLY to warn for low resolution or print quality issues.

Why is hemming a big deal for double-sided banners?

Sturdy hemming provides several advantages that increase the value of your investment:

- Increased strength and resistance to fraying, tearing & wear
- Grommets can grip stronger & more securely
- Improved tension across banner surface improves flatness & visibility

At SignMonster, we use a heat-weld hemming process that is much stronger and more durable than traditional stitching, taping, or gluing practices. By melting and cooling the vinyl fabric we create the strongest hem possible, which optimizes our double-sided banners for a longer, better service life.

What sizes are available?

On the small end we offer a 2' x 2' square and our largest standard banner size is 10' x 50'. We have dozens of options in-between, so finding your preferred size is easy. Certain sizes match well with common applications:

- 2' x 4' for small indoor events, curbside or entry-adjacent displays
- 3' x 6' for storefronts, markets or retail promotions
- 5' x 10' for large events, busy venues or building displays
- Larger sizes are ideal for concerts, festivals, stages, backdrops, fields & worksites

If you need a custom size created, contact our team to help with the details.

What is the typical turnaround time from ordering to delivery?

Most orders are fulfilled in 3-5 business days. Rush orders are available for an additional fee and subject to scheduling – if you can share details about what you need and your schedule, we'll do our best to make it happen!