FREE SHIPPING
WITH $100 ORDER
Mesh Banners
All banners are not created equal! If you plan on buying banners for outside use for an extended period of time, they need to stand up to wind, moisture, and sun. The solution: highly durable Mesh Banners.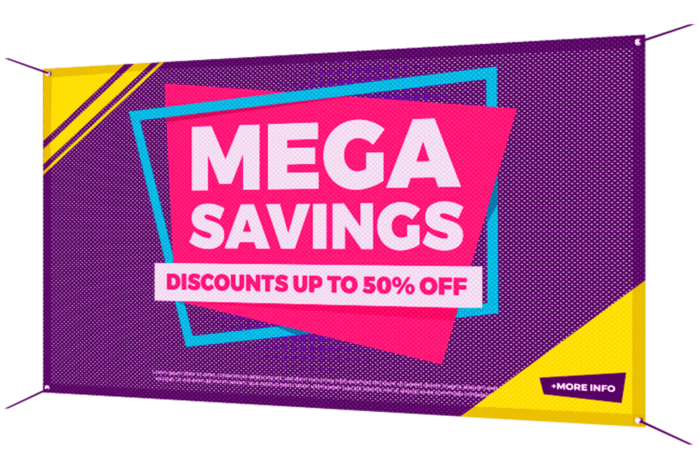 Even moderate winds and exposure to the elements can impact visibility and reduce the performance lifetime of banners. Severe wether can seriously damage or destroy them within weeks. Outside elements require a specialized solution: and the best solution is to buy mesh banners.
Mesh banners are a superb choice for a variety of applications and preferred for use outside because they are:
Highly durable & optimized for outdoor conditions
Able to withstand persistent wind & weather
Suitable for excellent vibrant printing
Resistant to fading
Safe & easy to transport
Engineered for a long service lifetime
Custom mesh banners are purpose-built for superior performance outside - you need a sign that can take the added punishment from nature, moisture, and sunlight. When you're spending money on ordering banners and signs for your organization, value is an important consideration - our signs are the advertisers choice for a long service life that delivers an impressive return on your investment.
Why choose Mesh over standard vinyl banners?
SignMonster also makes regular vinyl signs, but they're not optimized for outside use in all conditions as well as Mesh Banners do. While they're very well suited to withstand moisture and sun, the lack of airflow allowance means they can get damaged or blown away completely. Their heavier weight also makes them more difficult to transport. While they are still great for many uses, but just can't guarantee the same versatile performance when used outside as mesh vinyl.
Get Noticed & Get Business
The number one job of a mesh banner is to get noticed by the right audience - whether it's promoting your business, sharing event information, or getting a crowd excited.
Location, location, location

Where do you plan on hanging your mesh sign? That will help you choose what sign to buy. No matter where it goes, custom mesh banners are designed to last a long time, maintain good durability, and deliver better value for outdoor locations.

Choose a size that's ideal for what you need

We offer a huge range of sizes for mesh banners and we also work with special orders for unique sizes, ranging from 2x2 square all the way up to 10' x 50'.

Connect with your audience

We have a variety of templates, or simply send us your file. If you need help, our customer support will assist you with putting together all the elements for a mesh banner that looks great - check accuracy and make sure your sign looks exactly as you expect before printing.
What to Expect
Let's dive a little deeper into the nuts-and-bolts of our manufacturing process, so you know what to expect when you order a mesh sign from SignMonster:
Print process

We employ the latest generation 6 Color HP Latex Print Technology tools. All printing is performed in High Pass High Pass Mode (6 pass/1200 DPI, CMYK LC LM mode), which is a tech-nerd way of saying we're capable of delivering prints with great resolution.

Mesh banner vinyl

The lightweight mesh vinyl provides the perfect blend of durability and longevity, along with very affordable cost.

Hemming options

Mesh banner sign perimeters feature fold-back, heat-welded hemming at no additional charge. This additional structural reinforcement provides maximum strength, helps prevent fraying or tearing, and extends it's lifespan.

Grommet options

Grommets are the little metal discs around the edges that are threaded to secure your mesh banner for display - metal #2 grommets punched approximately a half-inch off the edge of the banner. These grommets are extremely durable and feature a smooth inside edge that won't cut into ropes or lines. Grommets are available in black or silver finish.

Submitting your own files

Our uploading process shows a preview: this is your opportunity to check for any errors and confirm that it looks exactly the way you expect. Our team will also manually inspect your upload before printing and contact you if any low resolution or print related issues are found.

Larger files should be zipped and transmitted via any non-password protected cloud sharing service. Supported formats and settings include:

- JPEG/PNG: 100-300dpi, RGB Mode, with no compression Photoshop level 12
- PSD/PSB/TIFF: 100-300dpi, in RGB; all layers combined into single background layer
- PDF/AI/EPS: Set to actual or 50% size, in RGB or CMYK; embed all linked assets; convert all text to outlines; expand all strokes; save high-resolution rasters at 50-100% scale; should not be password protected, if available export to PDF

Banner print quality

Mesh banners have a slightly lower resolution than non-perforated ones, because the holes actually remove about 25% of the surface. They can still support high resolution art and large fonts, however we do recommend avoiding highly detailed artwork and small/fine detail.
How Are People Using Our Mesh Banners?
We take orders from around the United States that demonstrate a wide variety of uses for business, commercial and promotional events. Here are some of the ways people and organizations are advertising with them:
Large Commercial & Industrial Enterprises

Large facilities order our banners for announcements, construction site or privacy screens, and branding. Weather-resistant, durable mesh banner is ideal for your compliance-required signage, including public announcements, safety standards, and OSHA notices.

Small Businesses

Mesh banners are perfect for store signage, sale announcements, portable signage, hiring, and more. Custom signs are one of the most impactful and cost-effective ways to tell people who and where you are.

Concerts & Festivals

Big events require big visuals! Concert and festival operators are buying mesh banners for stage backdrops, entry and exit spotlighting, equipment screens, event area dividers, band logos, safety signage, privacy screens, and parking directions.

Academic Institutions

Schools at all levels and universities order mesh banners for promotional signage, event and award announcements, welcome signage, athletic promotions, staff and student photos, and portable signage, as well as help staff, students, and visitors navigate the campus.

School & Club Sports

Ideal for league custom mesh signs and practice fields, field screens, visitor information, team and player photos, and parking directions. Placed around stadiums and fields, fence mesh banners can be used for fundraisers and sponsors, to promote teams and athletes, or simply to improve privacy and security. Fence banners are essential for efficiently managing sports events and leagues.
FAQs
Why are mesh banners preferred for outdoors?

Improved durability is the number one benefit of our mesh vinyl banners. Banners are regularly subjected to winds, weather, and sun, which can cause them to flap loudly in windy conditions, tear, or blow away entirely. Improved permeability and durability to weather and UV sunlight ensures your mesh banner looks better, lasts longer, and you receive optimal value for your investment.

What are other benefits of mesh banners?

Perforated banners weigh less that PVC or heavier vinyl fabric. This makes transportation and setup easier. Mesh banners are also better suited if weight capacity and safety for mounting are a concern: they add minimal weight to stages and other complex audio-visual setups - they are as permeable to sound as they are to air, which allows them to be used in front of speakers without affecting the sound.

What type of mesh vinyl do you provide?

The 8-ounce vinyl mesh, which provides the right balance of effectiveness with overall durability. The fabric is woven in a technique that allows suitable airflow, but still display a colorful and detailed mesh sign. Fold-back heat-welded hemming reinforces the grommets and helps prevent edge fraying.

What sizes are available?

Our smallest banner is 2' x 2' square and our largest is 10 x 50 feet. We have dozens of options in-between, for your display goals. All our mesh banners are lightweight and very portable – even the largest weighs less than 25 pounds. Popular choices include:

- 2' x 4' for small gatherings, curbside or entry-adjacent displays
- 3' x 6' for storefronts, markets or retail promotions
- 5' x 10' for large events, busy venues or building displays
- Larger ones are better suited for concerts, festivals, stages or backdrops – perfect for those "Go big or go home!" occasions

Have something larger or different in mind? Contact us to share details and to come up with a plan that suits your project.

What display options are available?

We punch metal grommets a half-inch from the banner edge. This allows you to utilize ropes, bungee cords, wire, zip ties, hooks, nails, or other fasteners to hang your banner without putting strain on it. The smooth-edged grommets help prevent chafing to the fasteners.

What are your options for customized banners?

You have the same options for customization with our mesh banners as with all our signs, banners, stickers, and other products. Work with our templates and team, start creating from scratch with our tools, or submit your own file. We support almost any customization request for our signs.

How can I be certain my image will look good?

Whether you started with our editor or submitted your own, a preview will be provided to confirm accuracy and check exactly how your banner will look like. Please inspect your preview carefully to ensure the output is suitable and there are no errors. Our designers will perform a manual inspection and contact you if low resolution issues are discovered.

Can mesh banners be printed on both sides?

No. We offer one-side-only printing for our mesh banners - they are semi-transparent, so images on each side will result in poor visibility and ghosting from both vantages.

What is the typical turnaround time for orders?

The usual time required for production and delivery is 3-5 business days. Rush orders are available for an additional fee and subject to scheduling – let us know what you need and we'll do our best to make it happen!
Ordering Is Easy
Use our tools, or start uploading process to begin your order! Choose from dozens of sizes and a variety of grommet and hem configurations. Check and approve your preview prior to ordering, to assure you buy exactly what you want.
If you have any questions, special instructions, or just want to learn more, please contact our support team. We're happy to help you and eager to begin a conversation about your project and how to make it perfect.