FREE SHIPPING
WITH $100 ORDER
Yard Signs
Just because you've seen other Yard Signs doesn't mean you've seen them all! Yard Signs from SignMonster are a step up in quality and value: they are designed to look better, last longer, and provide an improved return on investment compared to the competition signs!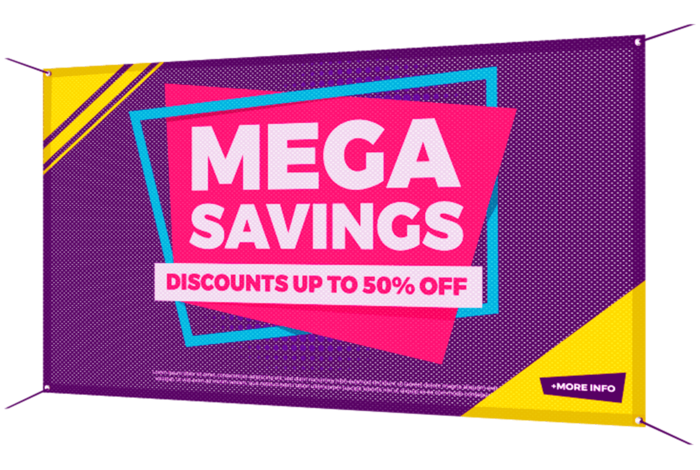 SignMonster puts in your hands the power to easily and quickly design and order yard signs in a wide variety of sizes, fully personalized to how you want them to look. Customers throughout the entire US choose us based on our reputation for:
Yard signs that can stand up to weather, moisture & sun
Superb sign image quality
Signs that resist common wear & fading
Improved value for your spend
Why Yard Signs Are a Great Business Investment
Custom printed yard signs are a popular and proven tool for businesses and organizations of all sizes because:
They can precisely target your audience

With other channels, including online and print advertising, you pay to connect with large audiences that might be outside your key demographic or service area. Yard signs are hyper-local and aimed directly at your actual target audience.

They are versatile

Yard signs are simple to install and move. You can try different locations and use them long-term. At a busy intersection or along a highly trafficked road, your yard signs will connect with an audience day after day, for months or years.

They are very affordable

Local advertising can come with a high price tag, but not our yard signs. Even a $100 spend can boost your visibility over a large area of potential customers.

They are familiar & proven

Yard signs are popular because they WORK! Organizations know that yard signs can attract the attention of passersby and get their message across.
Printed Yard Sign Features
Compare our yard signs to the competition, you'll notice an obvious difference in quality that provides you with greater value for your investment. Our standard features include:
Premium grade material

What good is your sign if it can't stand up to outdoor use? With yard signs from SignMonster, you won't have that problem. We use ultra-durable 4mm twinwall corrugated plastic sheeting: it's not only tougher than similar fiberboard products, but also waterproof and UV- and stain-resistant. Those qualities add up to a sign that can be expected to last 2+ years with proper placement and care.

Our yard signs are built to withstand not only everyday wear-and-tear but also punishing outdoor conditions of persistent sun, wind, and moisture. Yard signs don't need to be a disposable investment: SignMonster can help you earn the optimal value for your spend.

High quality printing

We've invested in 6 Color HP Latex Print Technology tools for all our yard sign printing, with yards signs rendered in High Pass High Quality Mode, which is the industry's preferred standard for high quality image printing. Our signs are never faded, blurry, or unprofessional appearing, which can diminish their impact with viewers.

Yard signs from SignMonster look better than the competition, which helps elevate you in the minds of customers and the market.

Design examples & templates

With SignMonster, you don't need to be a graphic artist to design a great custom yard sign. Our online design tool lets you browse hundreds of examples, choose a template that suits your design, and easily personalize the image and text. A preview image prior to ordering allows you to see exactly how your printed yard sign will look.

There's a reason the competition fears SignMonster: we make your design experience easier, faster, and better!

Bulk pricing & free shipping on orders $100 or more

At SignMonster, we're very aware that affordable costs are important. That's why your shipping is free on any order of $100 or more. Bulk pricing discounts begin for orders of only 10 signs – buy more signs, save more on your spend!
Yard Sign Options
SignMonster makes it simple and fast to create personalized yard signs for any purpose, including the options you need most:
Five sizes: 18" x 24" Standard, 12" x 18" Medium, 9" x 12" Small, 12" x 24" Narrow, 9" x 24" Narrow
Design your yard signs using our tools, with hundreds of templates
Upload your custom image
Input your custom text
Double- or single-sided printing
12" tall or 24" tall H-wire stakes (or none)
Use the design tool to explore styles and options, to help build your perfect sign. Use the preview image to see exactly how it will look before ordering.
Where to Use Yard Signs
Yard signs are for many more spaces than simply yards. They are ideal for making an impact in high traffic areas where they are visible to people in vehicles, walking, jogging, or commuting. Our business and organizational customers have benefited from displaying them in the following locations:
Along busy roads
At intersections & traffic lights
In front of business locations
In parking lot areas
Along campus, stadium or event location walkways
At special events
At facility entries & exits
What Types of Organizations Can Benefit from Yard Signs?
Yard signs deliver value because they are simple to install, provide superb visibility, and are very affordable. SignMonster manufactures tens of thousands of yard signs each year for:
Small businesses

Yard signs let small businesses compete more successfully, by providing a cost-effective channel to build awareness, promote services, and connect with customers. Our custom signs allow small businesses to make a market impact, without a huge advertising effort that costs an arm and a leg.

Yard signs are perfect for cleaning and landscaping companies, home or business services providers, real estate offices, sales companies, political and social campaigns, and more.

Cities, towns & municipalities

Yard signs can be used to promote upcoming events, share civic pride messages, or display safety messaging (e.g. "Please don't text and drive!"). Use them at events to help direct traffic or provide safety information. They are also ideal for recurring civic occasions, including for voting locations and council meetings.

Political campaigns

Yard signs are the preferred channel for advertising candidates and ballot issues because they are versatile, easy to install, and affordable. Campaign signs can be quickly deployed to roads, intersections, public spaces, and front yards. They are just the right size to share an impactful message and connect with voters.

Use yard signs to raise voter awareness about your candidate, ballot initiative, proposition, referendum, or other political campaign.

Realtors & real estate offices

Yard signs are essential for real estate agents and offices to get the attention of passersby and inform them of properties that are for sale, coming soon, or already sold. They are a familiar and convenient way to share important promotional information.

You already have the yards, so use yard signs to connect with your real estate customers and the community.

Schools & universities

Academic campuses can use yard signs to connect with students and staff on campus. The abundant foot traffic makes it convenient to use yard signs to promote class registration, campus events, athletics, awards, and more.

Special events & performance venues

Yard signs are ideal for promoting upcoming events, sharing venue information, directing traffic, sharing safety details, separating public and private areas, and more. The versatility and portability of yard signs makes them a superb choice for venues that have diverse events and audiences.

Enterprises & large organizations

You don't always need a billboard or a giant banner to make an impact with viewers. Big businesses and organizations can also benefit from the cost-effective approach to connecting with an audience that is provided by yard signs.
Use yard signs to advertise your services, promote your products, or raise awareness about your company.
Custom Yard Sign FAQs
Are your yard signs made from sturdy material?

Our yard signs are made from durable 4mm twinwall corrugated plastic sheeting. This material offers the ideal combination of performance features: it's lighter than extruded plastic sheeting, tougher than similar fiberboard products, waterproof, and UV- and stain-resistant. Because it's easy to cut, route, and finish, corrugated plastic sheeting also costs less per sign than other materials.

Under normal use and typical outdoor conditions, our yards signs can be expected to last 2+ years with proper placement and care.

Are stakes included in the standard order price?

When ordering you can choose from no stakes, or either 12" or 24" tall H-wire stakes (also called "step stakes") made from 9-gauge steel. Both stake sizes fit all five of our standard yard sign sizes. Stakes are sturdy enough to be installed in most soft-to-medium hardness surfaces, including sand, soil, dirt/clay mix, and landscaping rocks.

I'm looking for yard signs in a non-standard size – can you work with custom orders?

We can manufacture signs in a variety of additional sizes, both larger and smaller. Talk to our support team to learn more, we specialize in fulfilling custom orders that other companies cannot provide.

What is the most common size for yard signs?

Most of our customers order yard signs in the 24" x 18" Standard size: this offers an ideal compromise for visibility, ease of installation, and cost.

Do you offer bulk pricing for yard signs?

Yes, per-sign pricing is discounted based on larger orders, e.g. an order of 10 yard signs costs $6/sign, while an order of 100 signs costs $3.50/sign. Check our ordering tool for precise pricing and more information.
Order Your Yard Signs Today
Use our online yard sign design tool to explore customizable templates for small business, real estate, community messaging, and all other types of yard signs. Make the design your own by adding your text, custom details, or uploading your image, and use the preview image to make certain everything is perfect. Finally, choose options for size, single- or double-sided printing, stakes, and quantity.
If you have any questions, special order instructions, or just want to learn more about yard signs, our support team is here to help you. We're passionate about helping you leverage the power of yard signs to grow your success.