FREE SHIPPING
WITH $100 ORDER
Vinyl Banners Made and Shipped Super Fast
SignMonster specializes in making Vinyl Banners with fast delivery and shipped Nationwide! We have developed a dedicated system to provide stunning Custom Banners made on demand in just 1 day or less, with your own custom graphics, in a crisp and vibrant high resolution printing. Producing large quantities of Vinyl Banners every day allows us to master the banner sales and offer you an extremely competitive low pricing, high quality, and easy to use ordering process and banner customization options!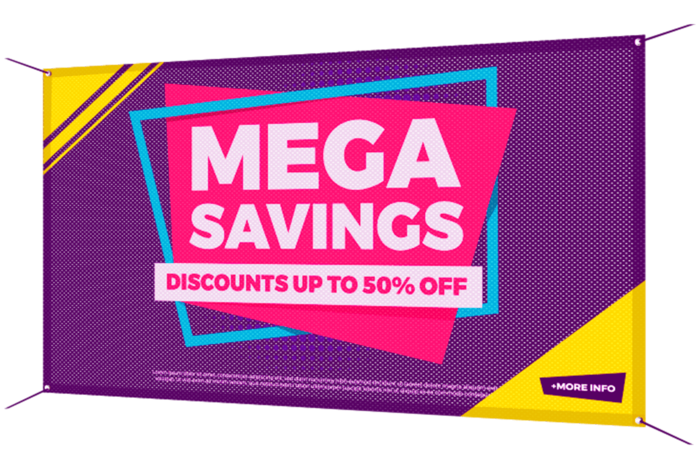 Here are the few quick questions most customers ask when ordering Vinyl Banners from SignMonster:
Shipping and Delivery:
How soon will I get my banner?

All banner orders are produced in 1 business day and ship on the next. If ordered today anytime before Midnight, your banner will go out tomorrow. Choose your state here and see exactly when to expect your banner to arrive

What shipping options do you have and how much is the shipping?

We ship by UPS and offer flat rate shipping on any size order
Ground $10
2 Day Express $35
1 Day Express $45

Do you offer free shipping?

Yes we do! Any order of $100 in value or more is eligible for Free Ground Shipping with the Discount Code "Sign-Monster" during checkout
Submitting Graphics and Design:
How do I submit my graphics for the banner?

We offer two easy ways to order banners - send us your own ready to print files, uploaded to us directly or through sending us a cloud link to the files, or by creating your own custom banner layout using our on screen design tool right here on our website.

Do you offer help with designing the banner?

While we do not offer help in designing your banner, we have developed an easy to use on screen banner builder that is free and easy to use. Just select your next banner size and click on Design Button to start customizing your banner. It will allow you to add any text, logos, colors and graphics you need.

How to setup my own file for printing?

Simply say, your file should match the size of your banner, or at least it's proportion. It should be high enough resolution for printing, and be saved in any popular file format such as JPEG or PDF. Please continue reading to the File Setup Details.
Pricing and Ordering:
How do I place the order?

All orders are placed on our website, and paid through secure online checkout with any major credit card or a PayPal account. All transactions are secure, and you will be provided with a receipt for your order, as well as a follow up tracking for shipping.

Are your prices competitive?

Yes! We utilize wholesale material sourcing and automated green production processes to reduce our costs and provide you with the most competitive pricing. While all our banners are custom made here in the USA with no outsourcing and only using top rated materials, the pricing level is really economical and some may even say our banners are cheap!

Are there any discounts?

Yes! We offer volume discounts for large banner orders with even lower pricing! If you're ordering more than 2 banners, all of them will be at a discounted rate. We also publish weekly and monthly discount code offers through our email list so make sure to subscribe!
Banner Making Process and Printing
Comparing 13oz and 18oz vinyl options
All our banner vinyls are perfectly suited for both indoor and outdoor use. The vinyl materials we use, either the 13oz or 18oz, are weather and UV proof, and will perform equally well in any outdoor setting, not to mention indoors. It is the material quality differences that make either vinyl better suited for a specific use.
Here's a breakdown of material qualities, that make a preference for a vinyl choice for specific indoor or outdoor use.
Both 13oz and 18oz vinyls are equally weather, water & UV proof, and feature the same high quality full color printing on the front side
18oz material features an additional light blockout layer, sandwiched in between two layers of vinyl, that reduces banner translucency and see through, blocking any light behind the banner more effectively and reducing ghosting and see through the banner. 13oz vinyl doesn't feature this additional blockout layer and may be more transparent to the light behind it.
18oz vinyl is less prone to curling, and will naturally stay flatter when hanged, especially if only installed by the top grommets.
Both materials are 1000x1000 denier scrim (nylon reinforced fabric with about 9x9 nylon threads per every square inch). However the vinyl weight on the 13oz vinyl is about .10 lbs per square foot, while the 18oz vinyl is at about .15 lbs.
Based on the above specifications, you should use
13oz vinyl:
no backlight is behind the banner (Sun, bright lights, etc)
banner is installed on a flat surface, such a building wall, fence, or any sort of a backing
secured by all 4 corners through provided grommets and is not hanging
18oz vinyl:
If a strong back light may be present, from either bright sun from the windows or outdoors, or any type of bright lights
installed hanging by the top corners, or stretched in between of any poles, posts or trees, with no solid backing behind the banner
where superior flat appearance is required
Outdoor Banners
For the long term use and use as a semi-permanent outdoor signage, especially if planned to be used over a span of few years or reused often, we recommend a rugged 18oz outdoor banner vinyl. For any outdoor banner installed between the posts, the 18oz vinyl should be used.
For the short term outdoor & promotional use, we recommend using more economical 13oz vinyl. 13oz vinyl is a good choice for outdoor banner being installed on any sort of a backing, such as walls, plywood, fence and non moving trailer sides.
A realistic expectation for the outdoor banner life span is at about 3 years. Anything over that may be considered a money very well spent and an extra mileage you've got out of your banner. After about 3 years, even if the banner was carefully used, the vinyl fabric will start coming apart due to the UV exposure and the ink may begin to fade and lose color (some colors will fade faster then others). A goal should be to prolong outdoor banner usage to the full 3 year rating, if possible. A critical part in the life of your banner plays how it is installed. Any outdoor banner that is sailing in a wind, not installed tightly and securely to minimize any banner movement and flapping, will sometimes degrade and tear apart within hours.
Here're critical parts to consider for outdoor banner installation:
install tightly and securely on all 4 corners and sides, through every grommet hole available, whenever possible;
Install to avoid any banner movement of flapping;
If installed between any two posts, a bungee cords should be used on all 4 corners in place of ropes, to tightly spread the banner between posts while taking some stress off the banner with the bungee flexibility and allowing to reduce wind stress
An additional way to increase outdoor banner life span is adding some wind slits to your banner. Wind slits are a half-circle cuts, about 4-inch in diameter, placed facing down throughout the banner, spaced in a checker like pattern at every 2–3 feet apart in a single or double row, depending on the size of your banner. Wind slits can be requested to be added to your order, or you can easily add them to any banner on site by carefully cutting the banner with wind slaps using any safe method, like a utility knife and a 4-inch round object as a guide.
Indoor Banners
Our vinyl banners make the perfect indoor banners, lasting indoors for 5 years and more. Either type of vinyl will work, where the 13oz will provide a lighter, more mobile and economical version, where the 18oz vinyl will serve as a sturdy curtain or display with a very flat and permanent appearance.
In our expertise we would suggest a heavy weight 18oz blockout vinyl for the free hanging banners, and a more economical and light weight 13oz vinyl for any other type of installation on a backing:
18oz Vinyl

Additional blockout layer will block any background light effectively reducing any ghosting or see through for installations with no backing, and would make a perfect hanging sign suspended from the ceiling, poles, or installed in a window. It is also very stable, and if purchased with our without the included hemming, it would stay very flat and resist curling at the bottom and the edges.

13oz Vinyl

Lightweight and economical, while providing the same excellent image quality and indoor durability, would be best suited to be installed on the walls, aisles or other structures, where the background light would be blocked to avoid any potential see through. When installed through all provided grommets holes, or at least at every corner grommet, it would create a bright and flat inexpensive display, that is lightweight and easy to move around and hang.
Banner Installation
Usually, it is the final destination and installation of the banner, that really makes the biggest difference in vinyl type to use. Generally speaking, a more economical 13oz material should provide most of the 18oz vinyl qualities, but in a lesser amount and probably a shorter life. While both vinyl materials are rated for up to 5 year indoor and outdoor use under perfect conditions, a more substantial heavy duty 18oz vinyl will most likely have a longer outdoor life span, while both choices will easily last 5 years plus indoors.
Post Banners
If the banner is stretched between any two posts or trees, you should use the heaviest vinyl option available (18oz) and also use special care for installing the banner. You should use expanding rubber bungee cords to attach banner on every corner with at least 2 feet of slack to allow the bungees to expand and reduce wind stress on the banner. Also, adding some wind vents (wind slits) would help prolong banner performance. Post banners are the most demanding banner use and it's life span may be greatly reduced just to mere hours if it's not properly handled and installed too tight with no flexibility at all, causing the banner to be ripped apart very quickly.
Wall and Fence Banners
This is one the best used for the banner, and if securely attached through all the banner grommets it should last a very long time. Most critical part in this type of use is to avoid any flapping or sagging, and having the banner stretched tight and attached on as many grommets as possible.
Sign Banners
Similar to the fence banners, if the banner is installed to cover an existing sign, or a sign structure (like a plywood road sign), it will be critical to stretch the banner tightly to avoid any banner movement. If done so, and attached with every grommet hole provided, you should expect getting near maximum use life out of your banner sign.
Window Banners
For any window banners, we would recommend going with our blockout non curling 18oz vinyl option, that will prevent any see through or ghosting. Installed on any hook option (such as suction cups, etc) by as little as the top corner grommets, it will provide an attractive long lasting sign. Try to avoid taping the banner with an adhesive tape, as it will become hard to remove the tape with time.
8 Important Banner Design Tips
You don't need to be a design expert to create a great looking banner. SignMonster has all the tools you need to make a custom vinyl banner that can effectively connect with your audience. If you're new and feeling a little lost about how to begin, here are eight tips to help get your design started.
1. Understand your goals. Some of the most common goals are to:
Promote a sale or event
Build brand awareness
Spotlight a new product or service
Create a visually distinct environment
Launch a rebranding campaign
Connect with the community
What goal is your banner sign promoting?
2. Figure out the right size.
First you should consider: where will your banner be displayed? Outdoor banners tend to be larger, so that viewers can see them from further away. Inside banners can be smaller, since viewers are likely closer.
3' x 6' is one of our most commonly ordered sizes: it hits that sweet spot of compact enough to be easy to mount, but also large enough to really make an impact. A 1:2 width-to-length ratio is kind of a golden rule for banners, especially those featuring more than one line of text. A 1:3 ratio is better suited for banners that feature a wide image/logo and only a single line (or no) text.
3. Make your banner stand out.
Visibility is essential, so think carefully about where your banner will be seen. If your business is in a tan brick building, a tan-colored banner won't stand out. Or if your brand colors are subtle, your banner might need a black border to make it pop. Creating a design that stands out is key to helping get your message seen.
4. Use color to hone your message.
Color has a visual language that can connect your messaging with your audience. Check out our Effective Banner Design page to learn more about how colors can impact your audience.
5. Verify your image quality.
Low quality images will always look blurry, imprecise, or grainy in the final banner product. Always try to upload images to SignMonster in the Vector format: this ensures no loss of clarity when enlarged. Raster-type files that are composed of pixels, including JPEGs and PNGs, will have their image quality diminished when they're scaled up.
6. Verify your text is readable.
The general rule of thumb for maximum impact is to multiply text height in inches by ten and convert to feet, e.g. 3-inch high letters can be read well at 30 feet, 6-inch high letters can be read well at 60 feet, 10-inch high letters at 100 feet, etc. This assumes a standard font that's not too stylized, so if you have something funky in mind understand that will affect readability.
7. Create an appealing focal point.
A focal point is important because it encourages viewers to notice and linger on your banner, which allows you to better get your message across. The focal point is likely an image or a brief and impactful text message. Your design can help highlight the focal point using contrasting colors, "stress text" that uses bold font or underlining, or large imagery that catches the eye.
8. Keep it simple.
If you can't get your message across in a couple lines of text, which translates to a couple seconds of attention from your audience, your banner is likely to fail in its purpose. The "Rule of 3-5" is helpful to understand: 15 words or less, arranged as three lines of text with five words each, or five lines of text with three words each. Keep your message short and sweet!
SignMonster Makes Ordering Banners Easy!
Ready to get started? Use our design tool to begin your order, then you can dive into making your banner just right! Choose from dozens of sizes and a variety of grommet and hem configurations, make a design for your banner, or upload your files for printing. Our proof preview lets you check everything twice and know that the banner you created is exactly what you need!
If you have any questions, special order instructions, or just want to learn more, please contact our support team. We're here to help make the process run smoothly and successfully.