FREE SHIPPING
WITH $100 ORDER
Large Banners up to 150 feet wide
Go Big or Go Home, with Grand Format Banners that Will Get You Noticed!
Large Banners might look like they're something only a big business can buy, however they're surprisingly affordable and easy to design and order. SignMonster specializes in wide format signs and banners that will get you seen by the largest audience possible!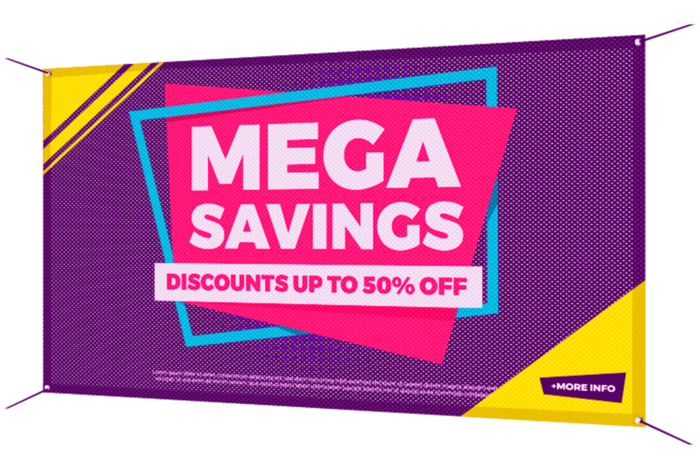 SignMonster is here to help you order your oversized banners as big as you need to! We've got sizes that begin at 50ft. in length and go all the way up to 150ft. long — that's half a football field! We receive orders nationwide based on our reputation for outstanding banner quality and service:
Large banners that can stand up to wind, weather & sun
Sharp & attractive banner image quality
Affordable costs & superior value for your banner investment
Fast turnaround
Live order tracking
Delivered ready to install
Courteous customer support
Whether you're looking for indoors or outdoors banners, who better to trust than SignMonster when you want the biggest banners possible? Let's build a huge size banner that gets you noticed!
Large Banner Features
Giant banners are not just about size. Many places can print super-wide banners, but they don't have the commitment to quality materials and production that creates a large banner that can last. The most important features include:
Premium grade vinyl

Monster-size banners need high quality material to last and make your investment pay off. We use 13-ounce, 18-ounce vinyl, as well as mesh - all an ultra-sturdy vinyl materials that deliver superior strength, lasting durability, and optimum performance in all conditions. It's UV safe and waterproof, to withstand both sunlight and moisture. Compare before you buy from other vendors, high quality material is one reason SignMonster terrifies the competition!

High quality printing

All of our banners are printed using 6 Color HP Latex Print Technology, in High Pass High Quality Mode, which is the industry's finest standard for high quality image printing. Don't settle for images that are faded, blurry, or appear unprofessional—your messaging will suffer! At SignMonster, we go the extra mile to deliver image quality that will make an impact with your audience.

Customizable sizes

Smallest is 50x2ft., all the way up to 150x10ft. Length can be ordered in increments of 5ft., and width can be ordered in increments of 1ft.

Fastening grommets

Choose from #2 size grommets every one or two feet across top and bottom, every two feet across all four sides, at all four corners, at the top corners only, or no grommets. Also choose silver or black grommets. We use the #2 size because they create a sturdy point of attachment and fit a large variety of standard fastening rope sizes.
Large-Size Banner Options
SignMonster works with you to design the ideal features for your giant banner and allows you to create fantastic, noticeable, wonderful displays that will get eyes on you and your business or organization. You're in charge of how your custom-printed giant banner looks and which options you need. Our options include:
Size range from 50x2ft. to 150x10ft.
Design your banner using our online tool, or upload custom images/text
13oz, 18oz, or Mesh banner materials
Heat-welded or stitched finishing
Grommets in anodized black or silver, installed to order
Use the design tool to explore the available features and options, then choose the combination that's perfect for your banner.
What Companies Use Super-Size Banners?
At SignMonster, we receive a lot of orders for extra-large banners, from all around the United States. Some of the most common uses by enterprises, civic organizations, sports facilities, performance venues, and event centers are:
Large format advertising

When you drape the entire side of a building in your oversize banner, it gets noticed! Wrap buildings, parking structures, stadiums, construction sites, and more.

RV, boat, car sales & storage lots

Large warehousing and storage areas can be spruced up with a giant banner that does double-duty as advertising.

Schools & universities

Oversize banners are ideal for large university buildings. They are used to promote school awareness, for commencements and graduations, at athletics facilities, and more.

Performance venues

Promote current or upcoming events and celebrate the size and majesty of a performance space. A large banner sets venues above the competition.

Stadium & athletic fields

Use oversize banners to promote teams and players, advertise concessions, or designate special areas. An extra-long, 150ft. banner makes a real impact with fans and visitors.
Other common uses include:
Conventions
Dedications
Event backdrops
Concerts & performances
Conceal building blemishes, construction or undeveloped spaces
Oversize Banner FAQs
What is the largest size banner I can order from your website?

Our large banner lengths begin at 50ft. and increase in increments of 5ft. Height can be any size from 2ft. to 10ft. That means our largest banner size is 150x10ft. Have something larger in mind? Call us, we can work with special orders in non-standard sizes.

How do you make such big banners?

All of our large, oversized banners are printed as a one single piece of vinyl, with no seams or join panels, so all banners are a one single piece.

How long does it take to design, order & receive super sized banners?

Designing is simple and the process is customizable to your needs: start from scratch using our online design tool and begin with a free template (there are thousands of variations to choose from), or upload your own image and simply send us the file. We also have a design team that can work with you to get the look just right. We have engineered the process to be easy and fast.

From ordering to delivery, we typically complete fulfillment in 2-5 business days. Rush orders are available for an additional fee and subject to scheduling – if you can share details about what you need and your schedule, we'll do our best to make it happen!

Where are your printed extra-large banners made?

We are proud to be a 100% all-American company! All our orders are printed at our production facility in the United States and shipped direct to locations throughout the USA.
Get Your Monster-Size Banner at SignMonster!
Have an idea for a 50ft. banner, a 100ft. banner, a 150ft. banner, or something in-between? Making it happen is easy:
Use our online tool to begin your design;
Choose from thousands of templates & options, or upload your own image;
Check how it looks in the preview image;
When you're ready to order, we're ready to get to work!
Questions, special order instructions, or just want to learn more about ordering large banners? Contact our support team for more info. Let's make a giant banner that really gets you attention!