FREE SHIPPING
WITH $100 ORDER
Magnetic Signs
Customize Your Fleet & Expand Your Reach with Magnetic Signs
If your business involves any driving, customized Magnetic Signs offer a simple, affordable, and effective way to promote your company. These are flat, custom printed signs made from a durable, all-weather magnetic material that allows them to attach to flat metal vehicle surfaces.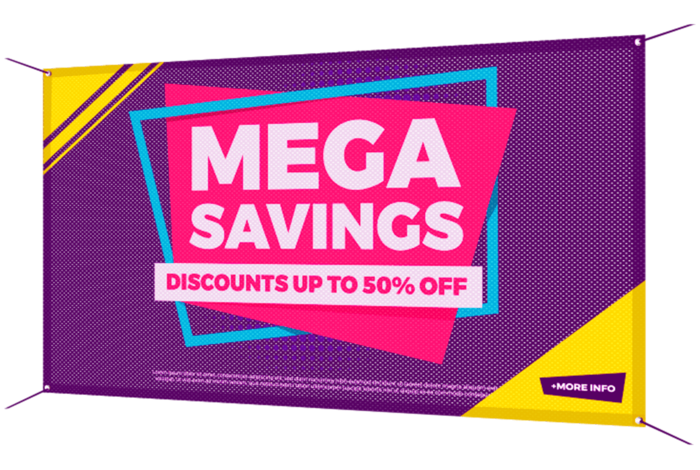 SignMonster specializes in making custom printed magnetic signs for businesses and organizations of all types. Our signs are made to the highest standards for quality, which means they perform better, last longer, and deliver improved lifetime value.
Our design tools puts you in charge: you don't need any design skills to quickly create an attractive and functional magnetic sign. Personalize your sign with your details and make it look exactly how you like. SignMonster ships to locations throughout the US, you can trust us for:
Ultra-durable magnetic signs built to resist weather, moisture & sun
Superb sign image quality
Signs that resist common wear & fading
Improved value for your spend
How Magnetic Signs Deliver Business Value
Businesses understand that visibility is critical to raising awareness and connecting with potential customers. Custom printed magnetic signs are ideal for delivering value because they are:
Able to reach a large audience

A business vehicle can travel hundreds of miles in a week and be seen by tens of thousands of drivers and pedestrians. The exposure area can also be large: each of those hundreds of miles is a new location to promote your business in.

You can benefit from all that exposure with no additional advertising effort required: displaying your magnetic signs is all part of a normal day's work for your team!

Very affordable

Other forms of advertising capable of similar scope – online, social media, billboards, newspapers – can be very expensive. However, a handful of magnetic signs can create a similar impact for under $200. If you're looking for a promotional/advertising strategy that delivers the most bang for your buck, magnetic signs are at the top of the list.

Superbly versatile

Magnetic signs are easy to install and maintain. They can be switched from one vehicle to another, or their location on a vehicle changed at any time. Need more exposure? Add more magnetic signs, or store them if their use is only seasonal.

You'll be surprised at the new uses and situations that your magnetic signs can be appropriate for – they represent an investment that can always be adjusted for maximum impact.

Proven to be effective

Magnetic signs are common for businesses because they are proven to work. Organizations have a long history of benefiting from the exposure and effectiveness of magnetic signs – you'll find out how great they are, too!
Printed Magnetic Sign Features
A lot of places make magnetic signs, however at SignMonster we've built a reputation for outstanding quality and service that results in a better experience. Our standard features include:
Premium grade material

We use 30mil thick magnetic material with 85-pound pull strength. That ensures our signs stay on in harsh weather and common road speeds. The material is engineered to be waterproof, resist fading, and maintain pull strength over time. With appropriate care, a SignMonster magnetic sign will last for a few years of frequent use.

Poor quality signs can fall off while driving, be dislodged by rain or snow, or noticeably fade in a short time. SignMonster understands businesses need an investment that returns maximum value: our promise to you is that your signs will be of superb quality that scares the competition!

High quality printing

SignMonster uses 6 Color HP Latex Print Technology tools for all our magnetic sign printing, with signs rendered in High Pass High Quality Mode. This is the acknowledged industry preferred standard for high quality image printing.

For you, that means magnetic signs that are sharp, clear, and pop with brilliant color. Compare our signs with those from the competition, which can be faded, blurry, or unprofessional appearing. We want your signs to appear attractive and professional, which boosts you in the minds of customers and the marketplace.

Design examples & templates

You don't need to be an expert to create a great sign: design expertise is built into SignMonster's online design tool. Browse hundreds of examples, choose a template that's perfect for what you want, and easily customize the image and text. Use the preview image prior to ordering to double-check details and see exactly how your printed magnetic sign will look.

Other sign companies fear SignMonster because we make your design experience easier, faster, and better!

Bulk pricing begins with two signs, free shipping on orders $100 or more

Businesses need prices that are flexible and make sense. At SignMonster, we're very aware that affordable costs are important. Order more signs and you pay less per sign – save 33% when you order 20+ signs. Shipping is free on any order of $100 or more.
Magnetic Sign Options
Businesses prefer SignMonster because we make it easy and fast to create customized magnetic signs that are just right for the job. Our options include:
Over a dozen sizes, from 12" x 12" to 48" x 24"
Design your sign using our online tool, with hundreds of templates
Upload your custom image & input text
Our design tool is simple to use and allows you to explore a wide range of styles and options, to help build your perfect sign. Before ordering, you can view your sign in the preview image to confirm details and see exactly how it will look.
Where to Use Magnetic Signs
Just about any vehicle surface that is large enough, relatively flat, and free from obstructions (door handles, accessories, etc.) can be an effective location for a magnetic sign:
Driver's side or passenger doors
Front or rear panels
Tailgate
Cargo doors
Trailer sides or back
What Types of Organizations Use Magnetic Signs?
Businesses small, medium, and large, as well as organizations of all types, can benefit from the visibility and promotional value that magnetic signs can deliver. SignMonster manufactures and ships tens of thousands of magnetic signs each year for:
Small businesses

Magnetic signs are one of the most effective and affordable tools small businesses can use to get a leg up in the market. A customized fleet can make a big impression by proving your professionalism to customers. Custom signs from SignMonster allow you to gain attention, promote your services, and make an impact in your service area.

Magnetic signs are perfect for home or business services providers, landscaping, pool, repair, real estate, and sales companies, and much more.

Political campaigns

Magnetic signs can be a quick and easy way to get out the word to vote for your candidate, ballot initiative, proposition, or referendum. Mobility allows you to connect with a wide audience and you can target specific areas that need a little extra boost: just drive around to raise awareness for your cause!

Realtors & real estate offices

For many realtors, their car is a second office. A car can also be an effective advertising platform, thanks to magnetic signs. Whether parked in front of a property you're showing, or just driving around your service neighborhoods, magnetic signs let buyers and sellers know who to call for real estate services.

Medium & large businesses

Magnetic signs offer a way for larger businesses to go local with advertising and promotional strategies. Take your brand to the streets and use your fleet to connect more closely with customers. Magnetic signs cost less and can be more effective than complex strategies that don't deliver that personal, everyday touch.
Use magnetic signs to build awareness about your services, promote your products, and connect directly with local communities.
Custom Magnetic Sign FAQs
Can magnetic signs work well on any vehicle?

Our magnetic signs are designed to work well on a wide variety of vehicle types, including cars, small trucks, vans, cargo trucks, and more. All your vehicle needs is a location with enough flat surface area to hold the entire sign. Typically this is a door, however magnetic signs can also be placed on front or rear panels, hood, cargo doors, tailgate, trailer, or any other location of suitable size.

Will magnetic signs damage my vehicle?

No. If properly applied, magnetic signs will not scuff or scratch paint or vehicle surfaces. They also do not leave any residue. Our magnetic signs are specially designed to be safe for long term use on all vehicle types. In fact, they can provide a layer of additional protection for paint and vehicle surfaces

How long can magnetic signs be expected to last?

With appropriate care and periodic cleaning, our custom magnetic signs are proven to last 3-5 years. They are designed to withstand all weather conditions and persistent moisture, resist fading, and not fly off at speeds of up to 80mph.

How do I care for my magnetic signs, to support the longest service life?

Remove and store magnetic signs during periods of intense rain or snow. Signs should also be removed prior to washing the vehicle. To clean your signs, remove them from the vehicle and gently scrub them with a washcloth or sponge soaked in lukewarm water. Do not use harsh chemicals or cleansers, which may degrade the printed image.

Where can I safely store my magnetic signs when not in use?

Almost any suitably sized flat steel surface will work, including a refrigerator, door or storage structure. Avoid locations that are exposed to high temperatures, direct sunlight, or frequent use.
Order Your Custom Magnetic Signs Today
Our online magnetic sign design tool is simple to use. Choose a size and quantity, then create the design online or upload your custom image. Our design tool allows you to explore different colors, fonts, alignments, and more. Use the preview image prior to ordering to make certain everything is perfect.
Questions or special order instructions? Our support team can assist you. Companies choose SignMonster because we have leading experience helping customers make the best magnetic signs for their vehicles. We look forward to helping your company connect and grow.