Home

\

RV Storage Banners
FREE SHIPPING
WITH $100 ORDER
Banners for RV Storage Lots
Monster-Size Printed Banners for Monster-Size Vehicles—Make Your RV Storage Lot More Visible & Appealing to Customers
It's a fact—storage businesses thrive when they invest in oversize banner advertising! Large custom-printed banners are an easy and affordable way to promote your RV storage business, build market awareness, and get customers in the door.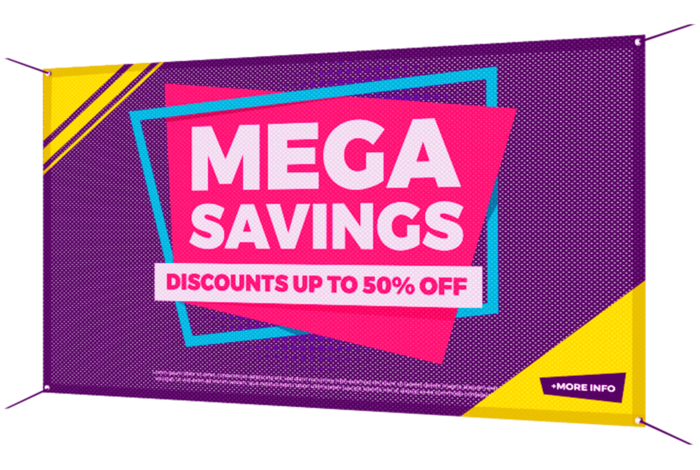 SignMonster is an experienced banner vendor for RV storage facilities, here's why we're preferred:
All types of banners, including mesh, double-sided, oversized, fence & more
All sizes available, up to 150ft.
Durable banners that stand up to wind, weather & sun, resist fading
Ultra-sharp image quality
Features & options perfectly designed for RV storage businesses
Best value for your advertising investment
Why RV Storage Facility Banners Work
We've made thousands of printed banners for RV storage facilities, here's what they tell us about how they're using them and why they work:
Huge, colorful banners facing roadways, or on the roof in areas surrounded by high-rises, receive tens of thousands of views daily;

Banners at the facility entrances are ideal for greeting customers & promoting the brand;

On-site banners are a great way to direct traffic, share safety information & promote sales events;

Oversize banners on all building facings are the easiest way to share contact information, operating hours & pricing.
Custom-Printed Banners Are Perfect if You Want to...
Speak directly to potential customers

Whether it's basic information like operating hours, prices, and contact information, or announcements about services and sales, oversize banners have the visibility needed to efficiently connect with potential RV storage customers. Keep your staff focused on sales and let banners do the easy work of keeping customers informed.

Advertise your business

If customers can't see you, they can't buy from you. Giant banners are a staple of RV storage facilities: they're highly visible from surrounding roads and they can tell potential customers everything they need to know to make a decision. On a price basis, banners can't be beat, especially compared to television or radio commercials. Banner advertising has better and more consistent reach than print advertising. Buy a banner once and you have an advertising channel that lasts for years!

Get the word out about sales & special events

Annual holiday promotions, special events, and closeouts—banners let customers know you're ready to deal! Promotional events are a big revenue driver for RV storage businesses and oversize banners allow you to easily and affordably get customers walking in your doors.

Spruce up & protect your facility

RV storage facilities need to be functional above all else, however oversize banners can be used to make spaces look friendlier, more attractive, and more welcoming to customers. Bright imagery and company branding create a strong identity that can also help get people motivated to visit. Fence screen banners are also ideal for restricting views into your facility and protecting vehicles.
Get Customized RV Storage Facility Banners at SignMonster
Ordering is fast and simple: use our tool to create your design, check how it looks in the preview image tool, and place your order. We'll have it to you in 6-7 business days and you're ready to begin getting value for your investment.
Please contact our support team with any questions or special order instructions. SignMonster is your partner for RV storage banners that are perfect for your business.
Featured Review from SignMonster Customer:
"We're lucky because there's an elevated section of freeway that overlooks our RV storage lot—with giant SignMonster banners on them, our south and east exterior walls are like free billboards that thousands of people see everyday! We replace them every couple years to keep them looking fresh, the pricing is so affordable that that's not a problem and we usually change up the messaging because that's also easy. SignMonster has been a superb partner for us, we also get flag pole banners and fence screens from them. It makes a big difference to us that we can get such high quality banners without spending an arm and a leg. Thank you."