FREE SHIPPING
WITH $100 ORDER
Pole Banners
Pole Banners are everywhere you look: along roads and walkways, in parking areas, and around company facilities, academic campuses, and entertainment venues. They're one of the most common and effective ways for enterprises, small businesses, civic organizations, sports facilities, performance venues, and organizations of all types to share important messaging.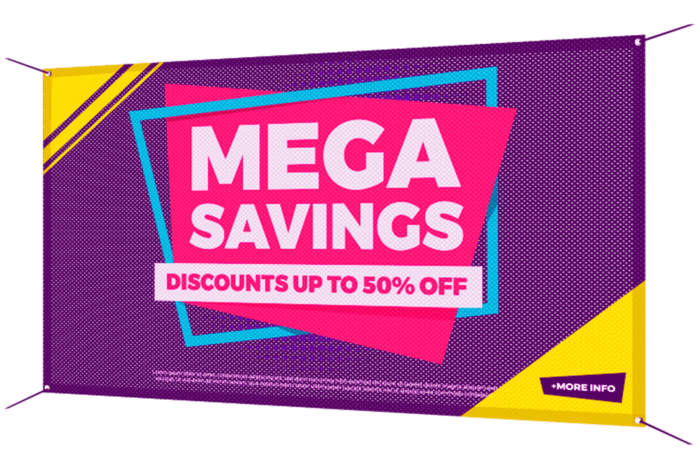 SignMonster lets you design and order Pole Banners in an almost endless variety of sizes and types. We are a preferred provider for professional customers because of our reputation for:
Banners with superb durability for wind, weather & sun
Exceptional banner image quality
Banners that resist fading
Improved value & return on banner investment
Whether you're promoting an upcoming event, advertising your products or services, beautifying a space, or simply connecting with your local community, Pole Banners are an effective and affordable solution.
Vinyl Pole Banner Features
Use SignMonster's convenient design and ordering tools to create the perfect pole banner for what you need. Standard features include:
Premium grade material

Banner excellence begins with high quality material. We use 18-ounce blockout matte vinyl, an ultra-sturdy material that is precision engineered for superior strength, lasting durability, and optimum performance in all conditions. It's UV safe and waterproof, to withstand both sunlight and moisture. It's also an ideal weight and thickness to display easily indoors or outdoors.

Don't settle for cheap material that fades or deteriorates after only a handful of uses. The noticeable difference in material quality is one reason SignMonster terrifies the competition!

Integrated pole pockets

Built-in pole pockets means installing is faster, easier, and more secure. Integrated pole pockets also ensure optimal visibility and performance: the design allows banners to display flat and steady, so that viewing is not compromised by normal winds and weather. Pole pockets are finished to the ordered banner size and are not an addition to length or width.

Integrated pole pockets make a qualitative difference in your banners. Trust SignMonster to understand your business need for the best pole banner products.

Superior durability

It doesn't matter how much care you put into designing the perfect image and text for your banner if it falls apart and no one sees it. Premium durability is a SignMonster trademark: our banners are designed to withstand not only everyday wear-and-tear but also punishing outdoor conditions of persistent sun, wind, and moisture.

Your choice of heat-welded or stitched pole pocket finishing provides an even higher level of resistance to fraying and tearing, without adding weight. Our commitment to durability delivers lasting value for your banner investment.

High quality printing

All of our banners are printed using 6 Color HP Latex Print Technology tools, in High Pass High Quality Mode, which is the industry's preferred standard for high quality image printing. Premium print quality for your banner sets you above the competition.

Lower quality standards for printing can result in images that are faded, blurry, or appear unprofessional, which affects how your messaging is received. SignMonster doesn't cut corners for image quality – when you choose us for your pole banner project, you know you're getting results that make an impact with your audience.

Double-sided printing

Printing on both sides is standard for our pole banners. This provides the greatest exposure and maximizes the ability of viewers to see your messaging from two directions. Double-sided printing is perfect for display along walkways, roads, bike paths, parking lots, and any other high traffic area – it's like getting two banners for the price of one!

We also offer single-sided pole banners, for applications that require viewing from only one direction.

Fastening grommets

Our pole banners feature #2 size grommets in anodized black, white or silver, installed every two feet around the perimeter, four corners only, or top corners only. The grommets provide additional strength along the hem lines and can also be fastened with zip ties, for extra security in especially windy conditions.

Wind vents optional

Venting reduces potential damage from wind and atmospheric conditions. We recommend wind vents for all pole banners that are intended for outdoor display in areas prone to windiness. Some municipalities may require wind vents for pole pocket banners, check with your local Chamber of Commerce or relevant authority for more information.

Wind vents are one more reason to choose SignMonster – we're always aware that your banner investment needs to return optimal value.
Pole Banner Options
SignMonster specializes in providing you the freedom to design and order pole banners that are ideal for your needs. Our options include:
Dozens of sizes, from 2' x 2' to 10' x 50'
Design your banner using our tools, or upload custom images/text
Double- or single-sided printing
Heat-welded or stitched pole pocket finishing
Grommets in anodized black or silver, installed to order
Optional wind vents
Use the design tool to explore the available features and options, then choose the combination that's perfect for your banner.
Where to Use Pole Banners
Pole banners are commonly displayed in high traffic areas where visibility from multiple directions allows the maximum impact for amount of impressions from potential viewers. Businesses and organizations commonly mount them in the following locations:
Along roads & paths
In parking lot areas
Along campus, stadium or event location walkways
As part of visual environments or corporate spaces
At facility entries & exits
What Kinds of Spaces Benefit from Pole Banners?
Pole banners are incredibly versatile and efficient, especially when compared to the cost of other promotions and advertising strategies. Some typical applications from our enterprise, small business, academic institution, sports, and event space customers include:
Cities, towns & municipalities

Banners on light poles along roadways can promote local events, share civic pride messages, or display safety messaging (e.g. "Please don't text and drive!"). Seasonal banners can be rotated throughout the year to create a look that is distinctive, consistent, and timely.

Schools & universities

Academic campuses have constant foot traffic and banners are an ideal way to share messaging. Registration windows, new classes, campus events, athletics promotions, awards, and more – these are only a few of the things pole banners can share with students and faculty.

Business campuses

Banners can support organizational branding, create a cohesive look, and advertise products and services. Banners can be used to connect with visitors for advertising, or support enterprise efforts to build a work community.

Performance venues

Pole banners are perfect for promoting a current concert or performance, including with visual branding materials and imagery that creates a suitable visual environment. They are also ideal for promoting upcoming events and sharing venue information.

Stadium & athletic fields

Use banners to celebrate teams and players, promote upcoming games, advertise concessions, or provide informational/safety signage. There are endless ways that pole banners can contribute to an appealing experience for fans and attendees.
Vinyl Pole Pocket Banner FAQs
What size banner poles fit in your pole pockets?

Our standard size pole pockets fit up to a 2" pole. If you require a custom size, please contact our support team for help: we can typically accommodate a wide variety of custom design requests.

I don't see the banner size I want on your design tool: can you make custom sizes to order?

Yes, we can work to custom specifications for banner size. Talk to our support team to learn more, we're happy to help make custom orders easier and faster.

How long does it take to design, order & receive pole banners?

Designing can be very fast: just a few minutes for simple banners, or a little more time if you have an idea in mind that's more complex. From ordering to delivery, we typically complete fulfillment in 3-5 business days. Rush orders are available for an additional fee and subject to scheduling – if you can share details about what you need and your schedule, we'll do our best to make it happen!

How do I install pole banners?

Our banners are designed to be compatible with any basic straight pole that you can obtain from a regular hardware store. While we do not include poles with our banner orders, you can buy any standard 1.5 to 2-inch PVC pipe or wood dowel that will work perfectly as a pole for your banner and can be easily inserted into provided pole pocket on your banner.

Where are your printed pole banners made?

We are proud to be a 100% all-American company! All our orders are printed at our production facility in the United States and shipped direct to locations throughout the US and Canada.
Better Banners Happen at SignMonster
Trying us out is simple and fast. Use our banner builder tool to begin your pole banner design and try out all the features that make us the industry's best, most convenient service provider for ordering custom banners.
You don't need to complete an order to see what your banner will look like. Choose from dozens of sizes, grommet and hem configurations, design an image in our tool, or upload your custom images. We generate a preview image lets you check everything twice and know that the banner you designed is exactly what you need. No order is required to see the premium quality results we're capable of!
If you have any questions, special order instructions, or just want to learn more about pole pocket banners, please contact our support team. We're here to help make the process run smoothly and successfully.