Home

\

Storage Facility Banners
FREE SHIPPING
WITH $100 ORDER
Banners for Storage Businesses
Custom-Printed Storage Facility Banners—Take Your Visibility to the Next Level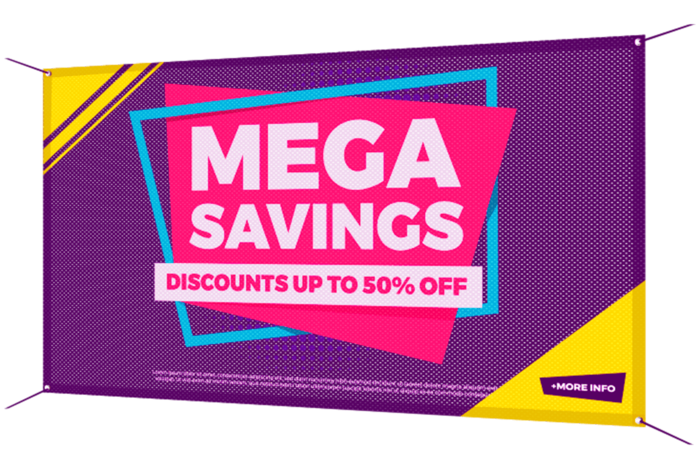 Your storage business has specialized banner needs for large, highly visible banners that can last for years in punishing outdoor conditions. SignMonster specializes in custom-printed banners for storage businesses. Create unique messaging that's perfect for advertising and promoting your facility:
Outdoor banners that can stand up to wind, weather & sun, resist fading in all conditions
Sharp & attractive banner image quality
All sizes available, up to 150ft.
Affordable costs & superior value for your banner investment
Fast turnaround, with live order tracking & courteous customer support
Delivered ready to install
Features & options perfectly designed for storage businesses
Promote your business
Made-to-order printed banners are an affordable and efficient way to build awareness, increase traffic, and reach a steady volume of customers. Large banners can be placed on any facing of your business and are easy to see from the road. Unlike other forms of advertising, you pay for your banners once and they keep on performing. Use printed banners to make a valuable connection with customers 24/7.
Advertise sales & specials
Use different banners for different occasions. Custom banners for major holidays, sales, and special events will set you apart in your market and create more meaningful connections with customers. Large banners that advertise sales and special events position your business to increase sales by being more relevant and current. Our banners are designed to be very portable, easy to install, and simple to store when not in use.
Share information
Inform customers about contact information and operating hours, provide on-facility directions and traffic control, share operating instructions, and much more. Customized banners are an ideal way to share information quickly and effectively, without taking time away from your staff.
Beautify your facility
Use large banners to add color, showcase attractive imagery, and build a unique identity for your storage business. A large banner with a custom image on the front of your facility is a picture that's worth a thousand words about your business and elevates you in the marketplace. Drive sales and community leadership with an oversize banner that helps customers remember your business.
Where to Install Storage Facility Banners
Our storage facility customers are receiving immense positive value based on where they install their custom banners:
Front-facing, for maximum exposure to new & returning customers

Facility sides that face roadways & highly trafficked areas

Rooftops, in urban areas with surrounding high-rise buildings & elevated highways

On-site, to provide directions & instructions to visiting customers
Get Customized Storage Facility Banners at SignMonster
We've made it extremely easy for you to design and order custom banners that feature your exact messaging:
Use our online tool to begin your design;
Choose from thousands of templates & options, or upload your own image;
Check how it looks in the preview image;
When you're ready to order, we're ready to get to work—expect your banner to arrive in 3-5 business days!
Please contact our support team with any questions or special order instructions. It's time to make your storage business really stand above the competition—SignMonster is here to help make it happen!
Featured Review from SignMonster Customer:
"I recently purchased an existing storage facility in Florida that needed some real attention to succeed. First order of business was to replace the exterior banners, which were faded and torn after many years of neglect. I didn't have much of a budget left and SignMonster was a great choice to keep costs under control, with awesome customer service. I was able to design new banners without any trouble and they arrived within a week. The banners promoting the change of ownership and 3-month specials helped attract customers: having frontage on the main road through town was perfect for visibility, everyone could see from the attractive new banners that we were professionals. SignMonster was great to work with and I love how easy everything was."